One of the most difficult tasks of an engagement photo session is to keep everything in secret. Making a surprise for a loved one requires a fair amount of cunning and resourcefulness. Despite all the difficulties, Charles has managed to cope with the task very well. 
Charles ordered a massage for Lindsay and, while she was relaxing and enjoying her life, he secretly met with me. It was decided to make a night photo session, because first of all it was unique and unusual, and secondly it would be a perfect continuation of romantic dinner in a restaurant nearby.  
While they were walking I was pretending to have been taking pictures of other things and have had absolutely nothing to do with this couple. But as soon as Charles gave me a sign I started to pay attention only to them. He also wrote her a letter with a confession of love, which smoothly flowed into a marriage proposal! 
The location is one more reason why the Pineapple Fountain engagement session has been wonderful. The Pineapple Fountain is the focal point of the Charleston Waterfront Park and the Charleston icon. Its charm will certainly amaze you; the fountain is especially beautiful at night. So it was definitely a good choice of the place where Lindsay and Charles started their own story.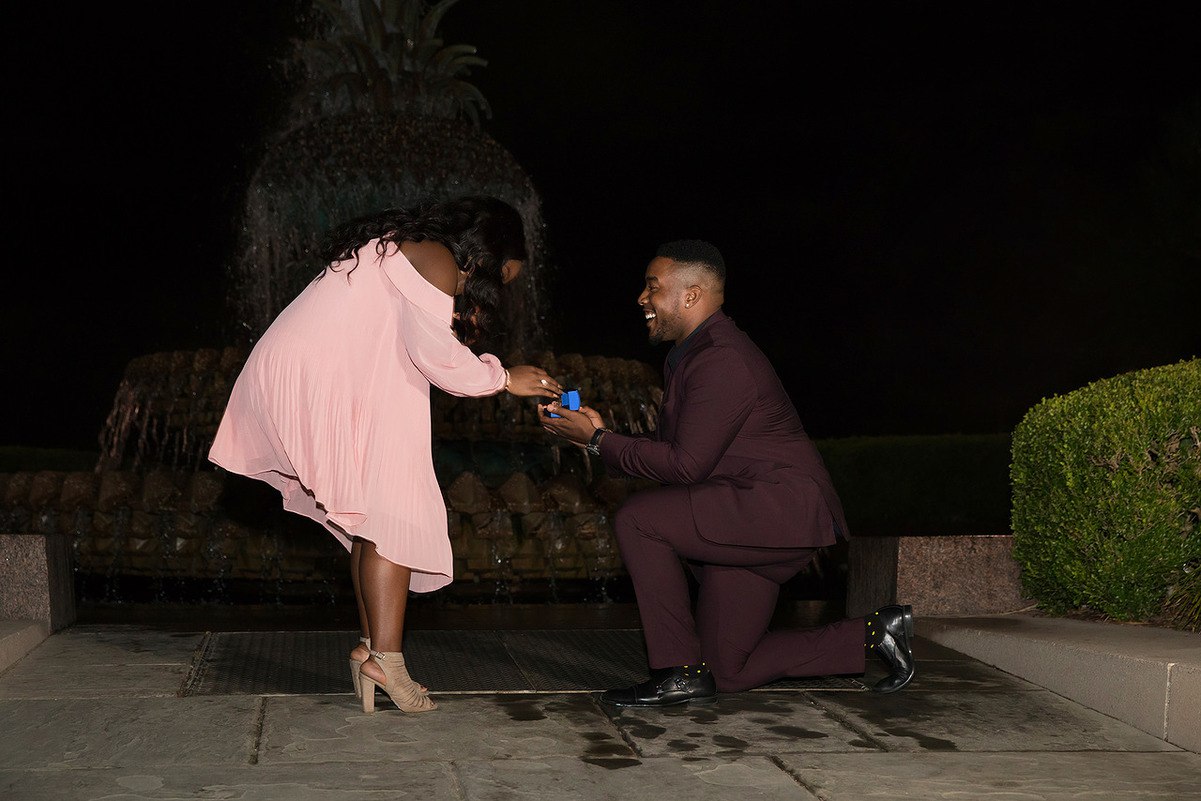 The couple was very sincere; they devoted themselves completely to this exciting moment. Once Charles said, "Everyday I'm with her is a funny, romantic, and touching moment!" Perhaps, you can feel these emotions even through the photos! 
For our part, we did everything we could to make the Charleston engagement photography perfect for them. So we were glad to know that all photos had fully satisfied our couple! Here you can see the review Charles has sent us, "Dennis was great! He helped me coordinate and photograph my engagement and was great with communication during the entire process. He even helped me plan the surprise. He was quick with getting the pictures to us and they turned out amazing. I would definitely use his services again!" 
Lindsay noted that she always loved how Charles found a way to surprise and impress her. And we were very happy helping him with this task!  
In conclusion, the engagement photo session was brilliant and we got a big pleasure to be a part of this special moment. Thank you, Lindsay and Charles, for this opportunity!