Being a Charleston photographer for quite a long period of time, I know that a wedding is not the only reason to book a professional photo session. We have many bright moments in our life that can be usual and boring for others but very important and valuable for us. Even during 30 minutes of a photo session we can create memorable and lovely pictures that you will want to hang on the wall.
That is why I would like to devote my October article to these small but wonderful wedding photography due to that I had a chance to meet many amazing people and take a lot of charming photos. It is the best part of my work to main my clients happy and satisfied😊
First of all, I captured a few family photo sessions. It is always such a pleasure to watch relatives gathering together for a some celebration but it is even greater when they meet without any reason! Of course, sometimes it is a big challenge to take pictures with little kids but their enormous life energy and happy laughter charge everybody with a good mood. Moreover, you will definitely appreciate such photos many years later, when your children become adults and lose their restlessness.
Another kind of photography is no less important than a wedding. Can you think of the next significant step in your life after meeting your beloved partner? Of course, it is an engagement. Sparkling with happiness eyes, romantic and magnificent atmosphere, love in the air makes many couples want to capture this moment in photos.
I like Charleston engagement photo sessions so much because couples often introduce some unfamiliar charming places to me as they have a special importance for their love story. For example, I had a chance to take pictures on the rooftop of the Dewberry Hotel. The view was gorgeous! Our photo session took place on sunrise so mild lighting and beautiful sun rays made the atmosphere unbelievable. Just have a look at this photo!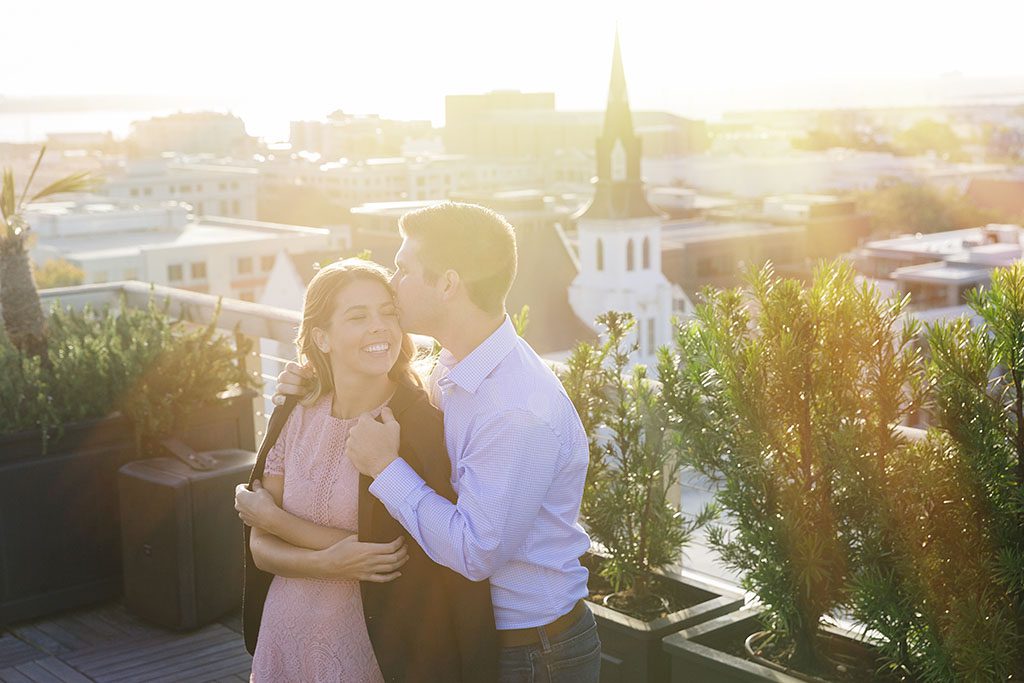 I cannot but mention maybe the most exciting and thrilling type of photography. Secret proposal photo sessions take special preparations but a bright smile and often even tears of happiness of your surprised partner worth it. I always do my best to capture these pure and sincere emotions as I understand how important for the couple this moment is.
This month I have had such a photo session at the Pineapple Fountain and can ensure you that Waterfront Park is a good choice. Its beautiful and captivating nature provides a lot of charming spots for lovely pictures.
Thank you so much for all these photo sessions!