I hear that question a lot. Whether you are local or visiting Charleston for your proposal session, you may not know what the best engagement session locations in this area are. There are so many scenic and unique spots to capture the magic moment of proposal, so it can be hard figuring out where to go for the session. That's why I'd like to share my favorites with you!
I've prepared for you 35 remarkable places which I and my engaged couples really like. And I am sure that you will find the one that matches you perfectly!
White Point Garden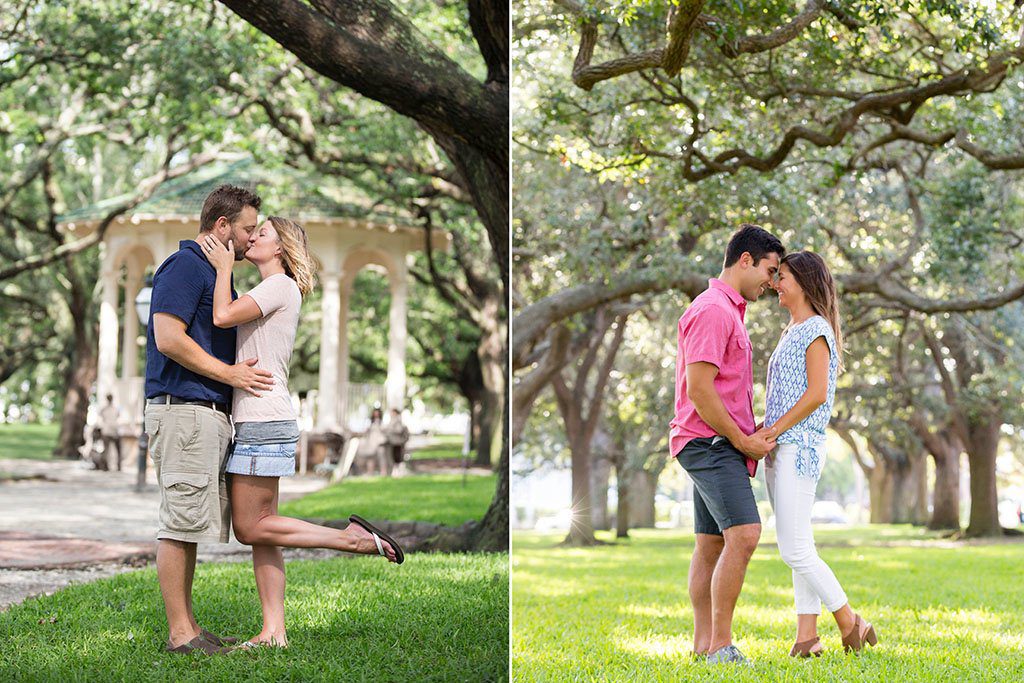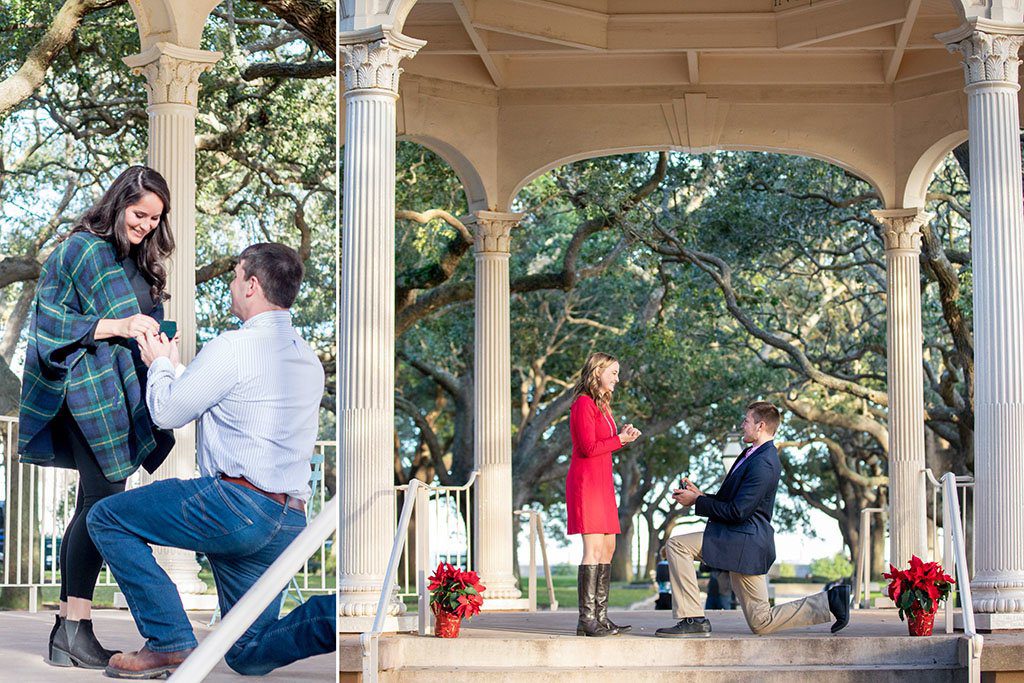 This park reflects the spirit of Charleston. White Point Garden can be called so without any doubts! There are two really nice places. The first one is the most popular spot of this park – the Gazebo. We can do wonderful pictures inside it or in front of it. The second place is the area with the view of the Avenue of Oaks. The park benefits are huge! On the one side we will find the waterfront where we can do amazing pictures at the water background. On the opposite side there are beginnings of the most beautiful streets in Charleston – King, Meeting and Church streets.
Waterfront Park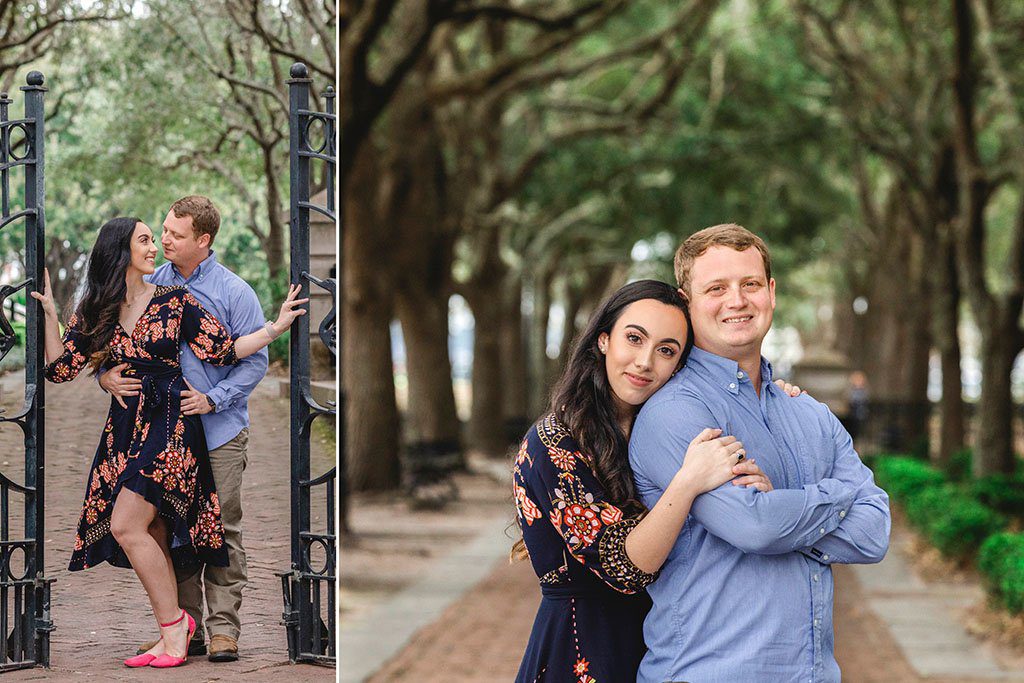 Usually people know this park only because of the Pineapple Fountain but I can provide some proofs why the whole area deserves mention. The park was awarded the 2007 Landmark Award from the American Society of Landscape Architects and the National Trust for Historic Preservation. It is essentially a romantic, engaging, serene, and perfectly picturesque destination. Charming tree-lined alleys and many beautiful backgrounds will make any engaged or going to do it couple fall in love with this unique southern city. There are plenty of benches in shady areas where we can take some really intimate and romantic pictures so photography in this park is a really great idea for engagement!
Pineapple Fountain
The area of the famous Pineapple Fountain provides wonderful places with the views of the waterfront on the one side and beautiful greenery (you can have a look at these majestic trees on the photos) on the other. This unusual fountain is a focal point of the Charleston Waterfront Park, which people have been enjoying since it opened in 1990. As well the cobblestone street will be an unusual background for your photos! Not far from it is located Rainbow Row. We can walk there and take some lovely pictures.
Hampton Park
The first thing that can attract you – it is the largest park on the peninsula. The trails that it offers to walk are so pretty and captivating that we can take some charming photos literally everywhere! There is a huge fountain in the centre with a lot of Canadian geese. Where else can you find huge live oaks, wonderful Spanish Moss and a lovely duck pond all at one time? If I were you, I would definitely pay attention to this amazing place! Of course, it is a little crowdy but I have had so many photo sessions here so can help you to find the right time.
Chapel Street Fountain Park
Are you dreaming of your engagement to be calm, peaceful and very intimate? Well, I have something to suggest! One of the greatest benefit of Chapel Street Fountain Park is that it seems a world away from downtown's hustle and bustle. If you get exhausted in crowds of the most popular touristic places you can visit this hidden oasis in downtown Charleston. Water is a good background for any kind of photography as it makes photos livelier. The fountain is very nicely placed in the middle of the park with flowers, trees, and other plants all around it. Not many locations can boast that they can pack a lot of green space into a small area. Don't miss an opportunity and have a look at these charming views!
Angel Oak Park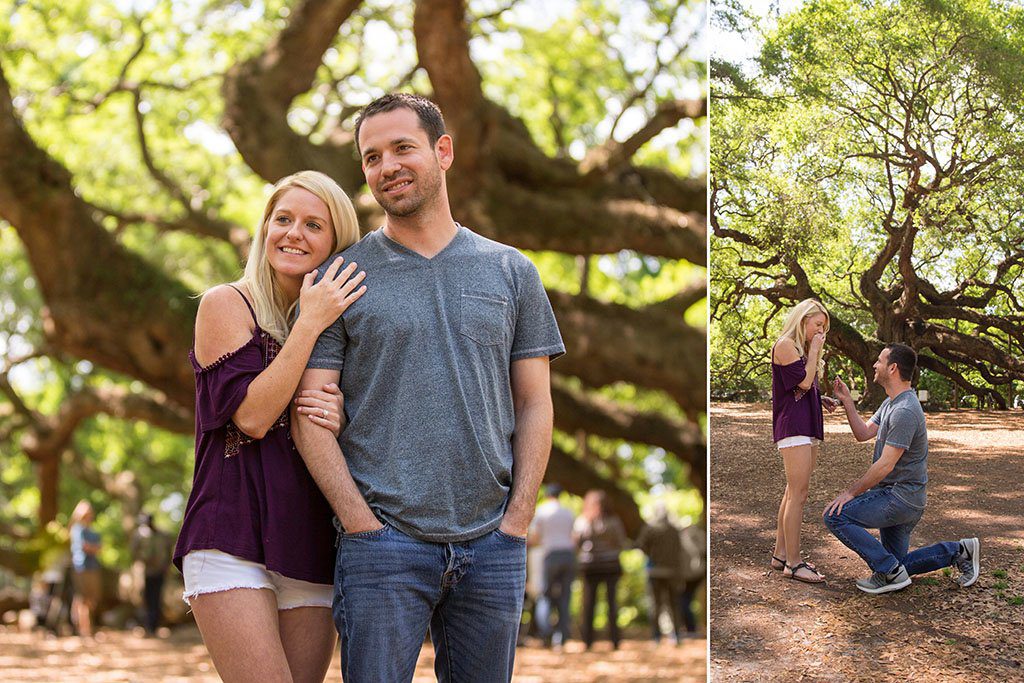 Do you love nature in its full glory and want to capture one of the most important moment in your life in a stunning location? Then it is necessary for you to visit Angel Oak Park and have a look at the most spectacular spot of this place – the Angel Oak. The tree is estimated to be 400-500 years old. Just seeing the giant majestic tree is breath-taking so you will never regret if visit this marvellous place. The long trailing branches create so romantic and unusual atmosphere for doing pictures that it is impossible to remain indifferent.
Daniel Island Park
This park is considered to be one of the most desirable in the entire Lowcountry. Why so? In Daniel Island Park you can enjoy the views of the water, marsh, woodlands, parks and the golf courses. Such diversity must attract attention! The beautiful location is situated amongst spectacular natural scenery. There you can also observe the views of the gracious homes, townhomes and condominiums of the finest architectural traditions of the region. As well, it is a good opportunity to have a look at the Island's most breath-taking vistas.
Colonial Lake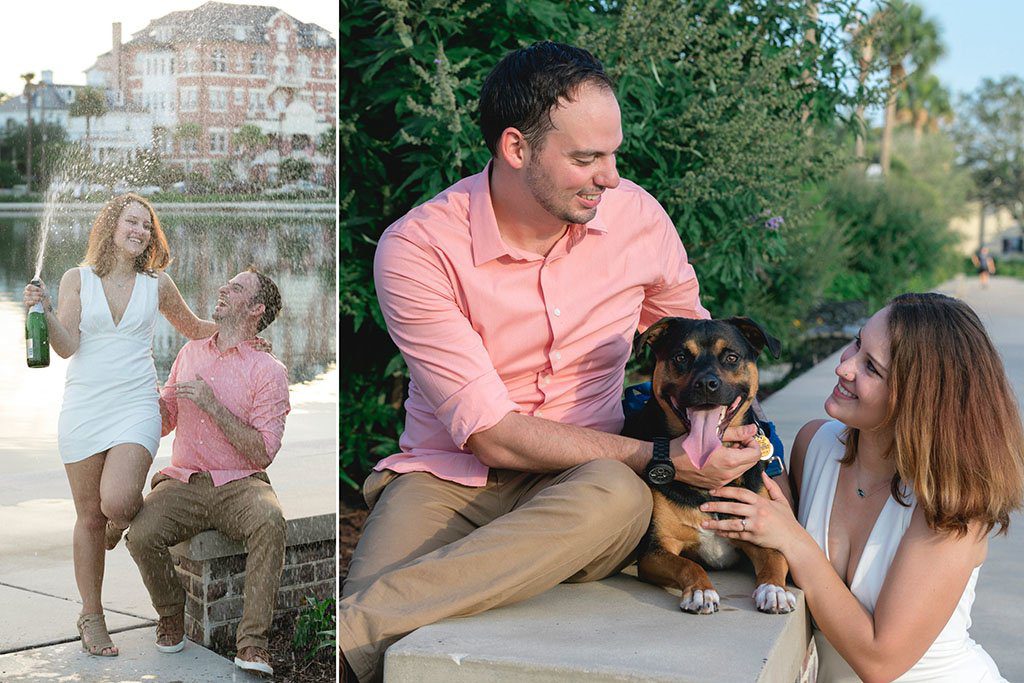 Another idea for engagement photo session is a much simpler place but it is not so crowded. We can find some beautiful backgrounds with lovely decorated bushes on the sidewalk. You will be able to observe the view of elegant homes in a nice neighbourhood. The area around the lake is nicely maintained and manicured with trees, plants, and flowers and really allows you to get away from the city without going anywhere. Of course, this park is not so amazing as White Point Garden or Hampton Park but it has its own lovely spots that can become wonderful backgrounds. Just look at the photo I have made with one of happy engaged couples!
The Battery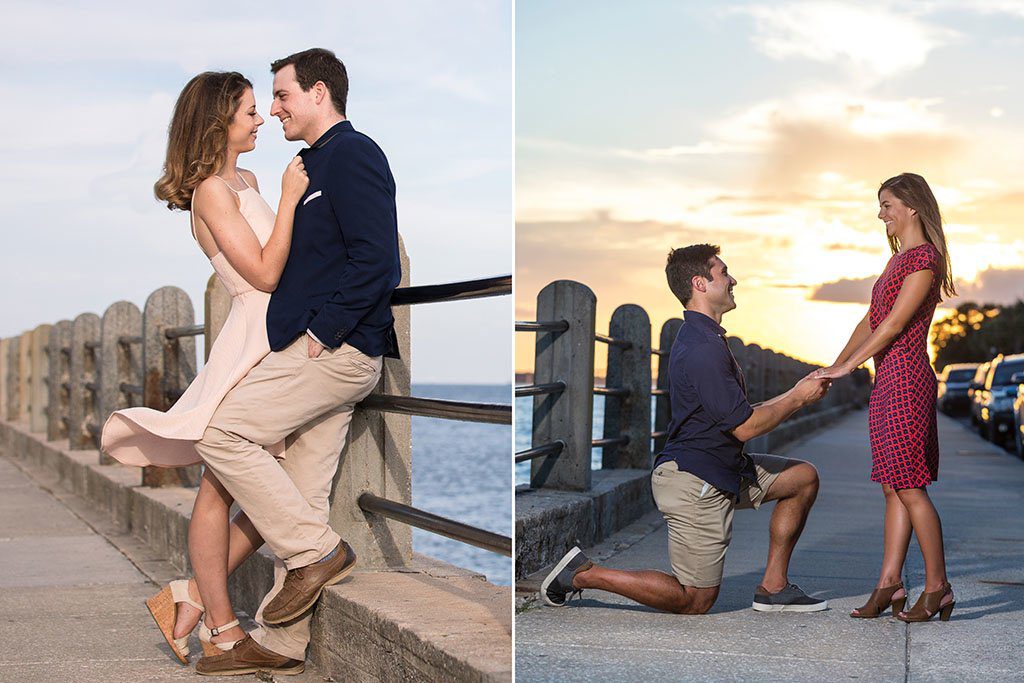 A long time ago have been an important defensive area, now it is a peaceful and beautiful place. The history behind Charleston SC is told through the statues and plaques displayed there. Nice cool breeze will help you relax and enjoy your surroundings and I will do my best to take amazing pictures of your engagement. You can be sure that even absence of experience in posing will not be a problem with my help. If you want to do pictures at the waterfront you should pay attention to this charming location. It is especially beautiful at sunset, isn't it?
Charles Towne Landing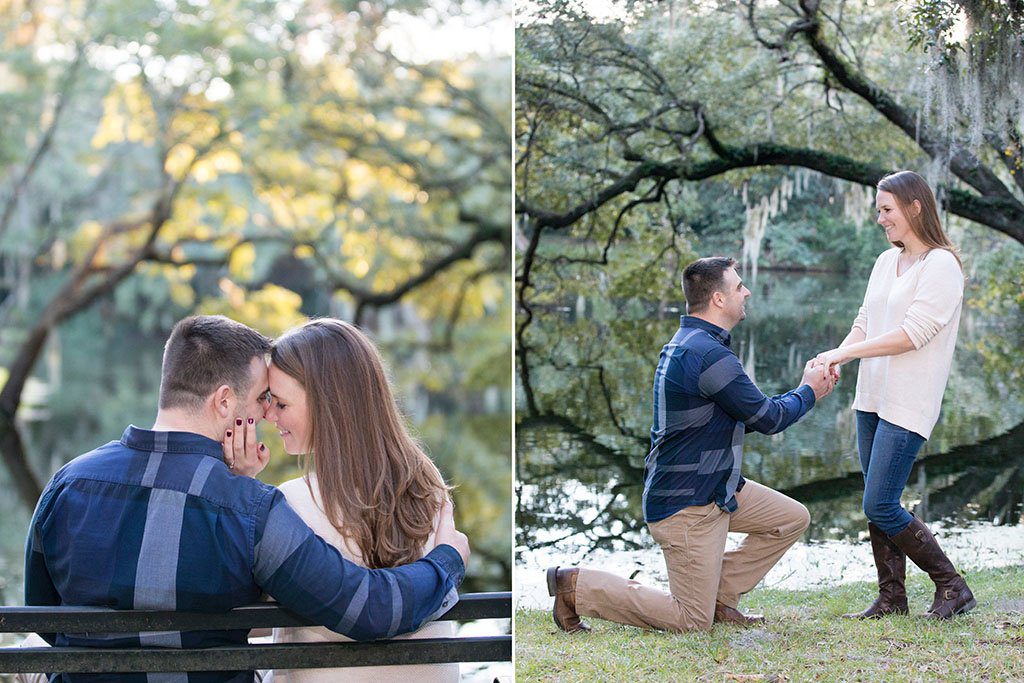 Another place that represents the beauty of Charleston nature is Charles Towne Landing. There are many intimate trails where you can walk and enjoy the sites and plants of the area.  Lots of natural birds and wildlife make you feel in the woods. I am pretty sure that we will find the perfect background for your favourite photo among 664 acres of beautiful low country scenery for you to enjoy and 80 acres of park gardens. You can observe the majestic alley of oaks that will take your breath away and create unforgettable memories. Therefore, why not to capture your significant day in such a wonderful place?
Boone Hall Plantations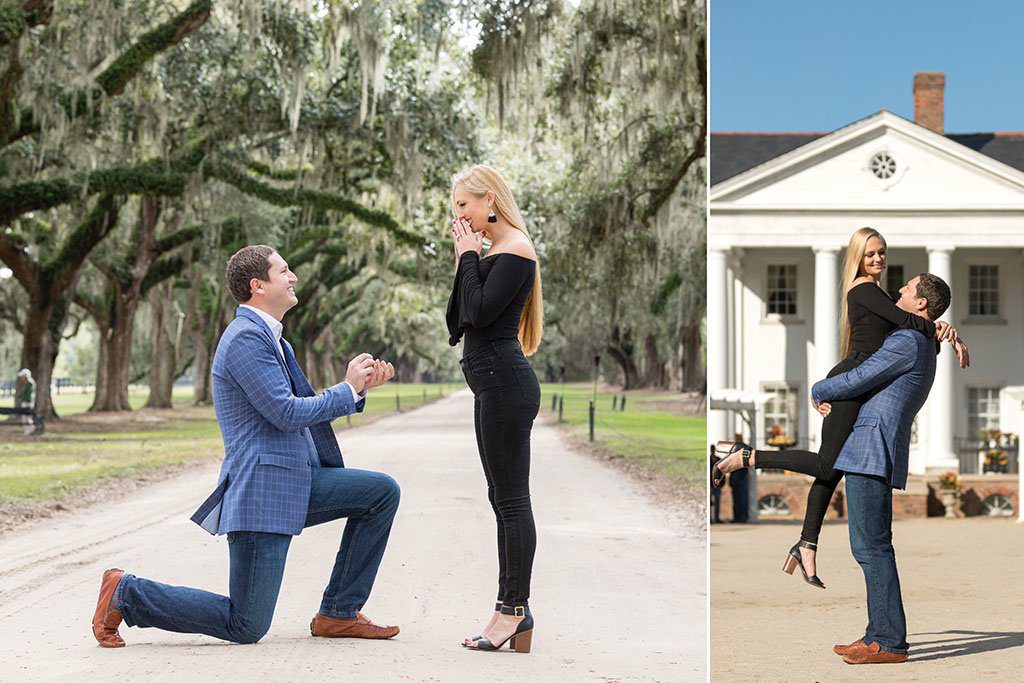 It is called 'the most photographed America's plantation'. The administration of this place requires a high fee for photography but backgrounds for pictures there are incredible. Picturesque landscapes and beautiful greenery makes the location one of the best in Charleston. The driveway is lined with amazing Live Oak trees that have Spanish Moss growing from them. This spectacular approach symbolizes southern heritage and will take root in your memory for many years to come. As well, this place is famous for its rich and sometimes violent history. Not only wonderful nature but beautiful architecture will impress anyone who visits Boone Hall Plantation and Gardens. You can see for yourself what attracts so much tourists there.
Charleston Tea Plantation
It is the only tea plantation in North America where you can see hundreds of thousands of tea bushes stretching out acre after acre for almost as far as the eye can see. The beautiful and spacious plantation provides a lot of opportunities for amazing photos. Usually it is not very crowded, as Tea Plantation cannot be called an obvious location for an engagement photo session in Charleston, like White Point Garden or Magnolia Gardens. However, the beauty of this place is by no means inferior to these popular tourist destinations. If you want to propose your partner here, don't hesitate and contact me!
Magnolia Plantation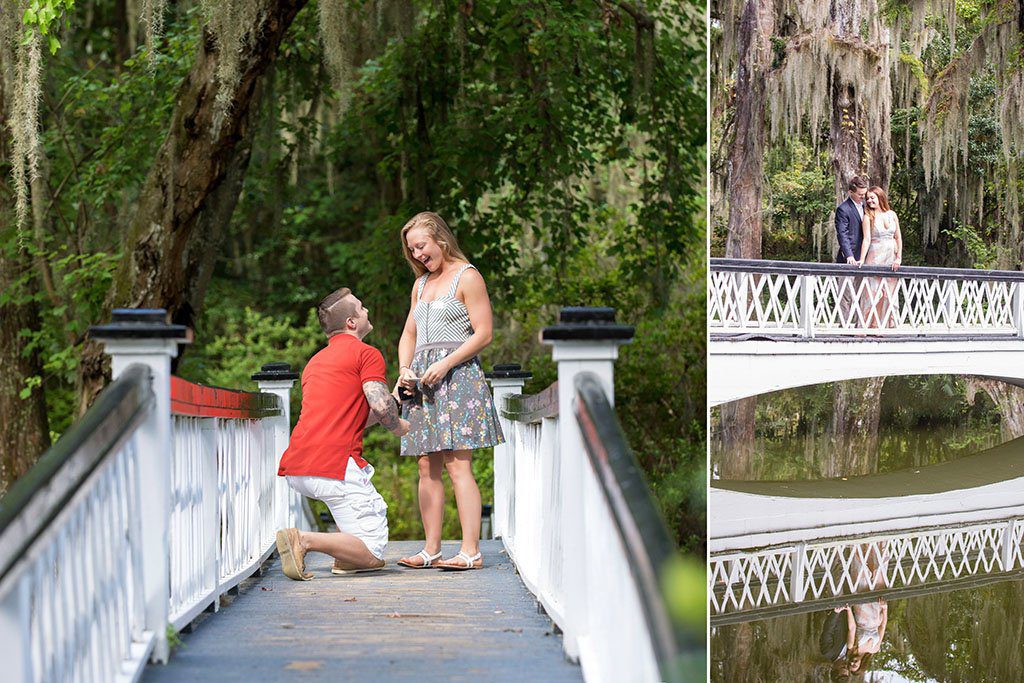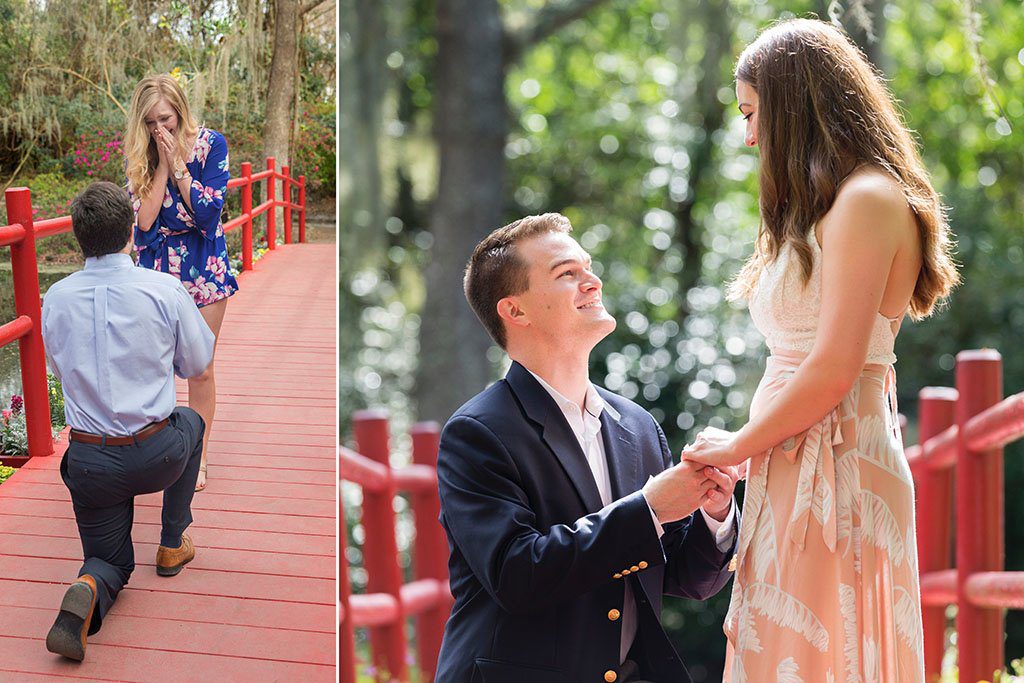 Do you want to do unusual photos with alligators to make all your friends jealous? Therefore, it is necessary to visit Magnolia Plantation and Gardens! Moreover, it is the only garden honored with this distinction in the State of South Carolina. At the peak of blooming season this location can make you think that you have fallen into a fairy-tale. A good variety of flowers and other plants, magnolia trees, an elegant bridge – it looks like a dream, doesn't it?
If you want both to enjoy the view of spectacular romantic greenery and to see the oldest public gardens in America, I would be more than happy to do pictures there. Please pay attention that they require a fee for photography so you need to call and find out more about the exact sum. However, this wonderful place is without any doubts worth this money.
Middleton Place
The beauty of the gardens of Middleton Place and the shade they offer will help you to forget about everything! What sets this place apart from so many others? The landscape looks absolutely fantastic, the gardens reminiscent of the European royal gardens with a unique Southern flavor. Many people consider Middleton Place as the most charming and beautiful place they have ever visited. This location seems to be created to hold romantic engagement photo session. However, there is a fee for photography so you need to call the administration and find out the exact amount.I
Fountain at north entrance of Waterfront Park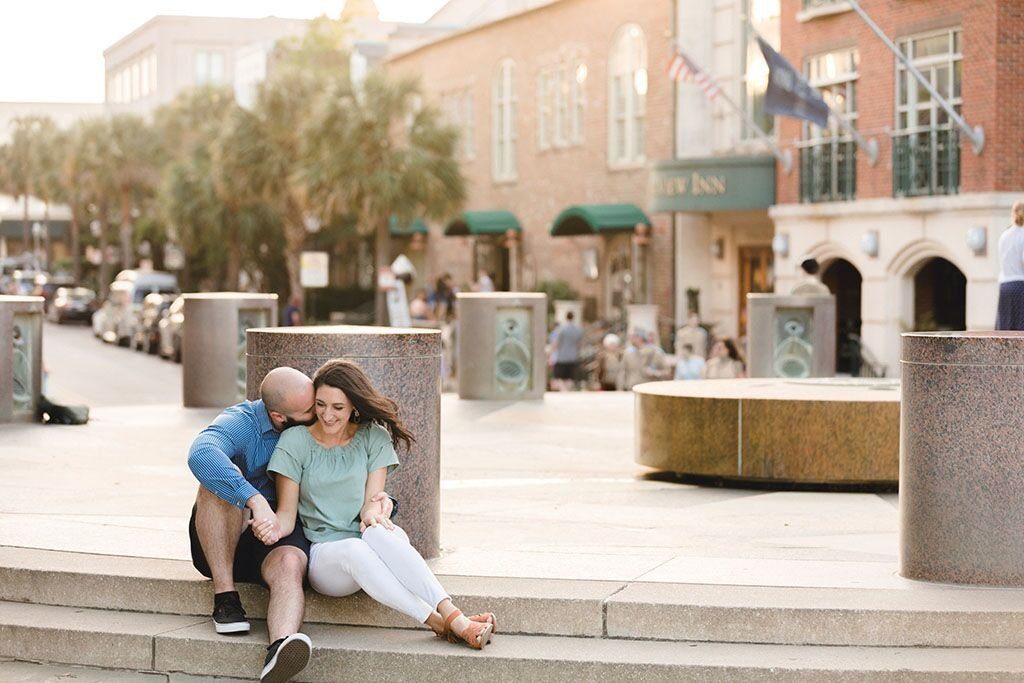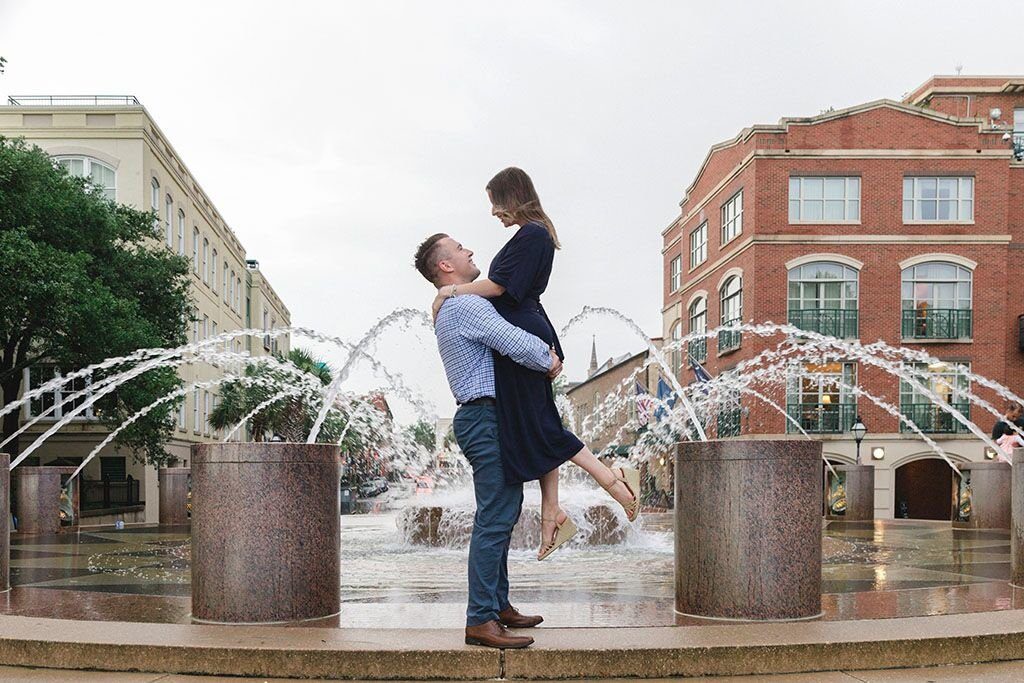 Well, all we know advantages of Waterfront Park as a location for taking pictures, right? It is essentially romantic, engaging, serene… bluh bluh bluh. Let's be more specific. Fountain at north entrance of Waterfront Park is one of the most beautiful places for taking engagement and secret proposal pictures. There are not so many people in comparison with Pineapple Fountain, so you will not worry about crowd and you will be absolutely confident and calm during our session. The fountain is wonderful and elegant; therefore it looks amazing on the pictures.
I'On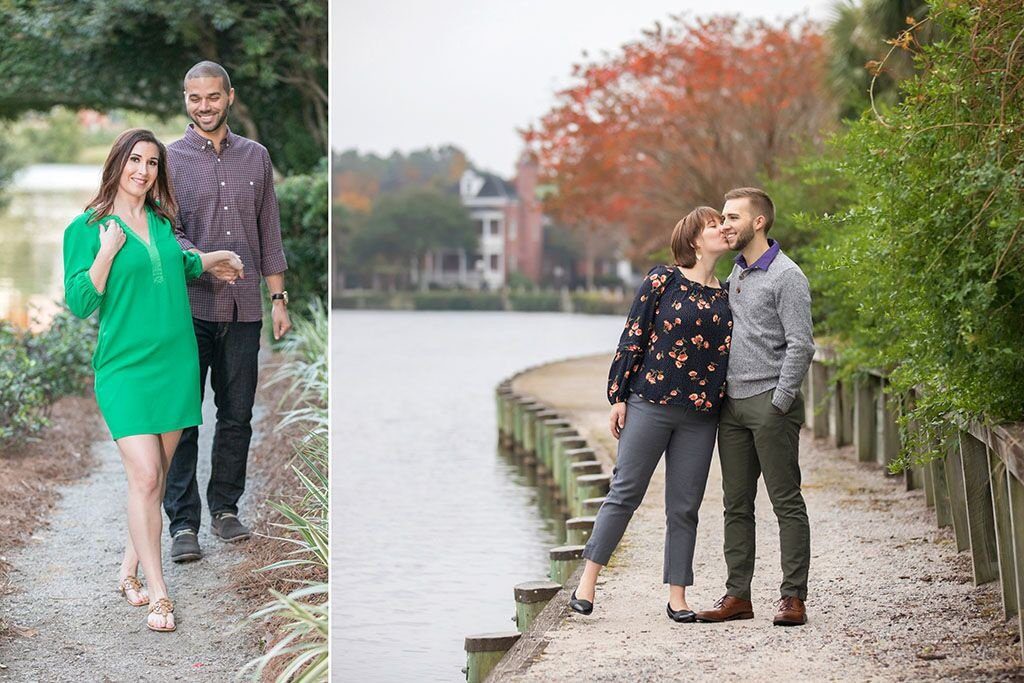 What do you want the place for your photo session to be? Beautiful and inspiring nature with various views, a location renowned for both its beauty and historical meaning? Then here we will tell of the most admirable place you've ever seen! I'On is a mixed-use New Urbanist "Traditional Neighborhood Development (TND)" style community located in Mt. Pleasant, South Carolina, United States just northeast of Charleston. The area is quiet, so you should not worry about crowd and time where to take pictures. If you are still in two minds just look at this photo!
Rainbow Row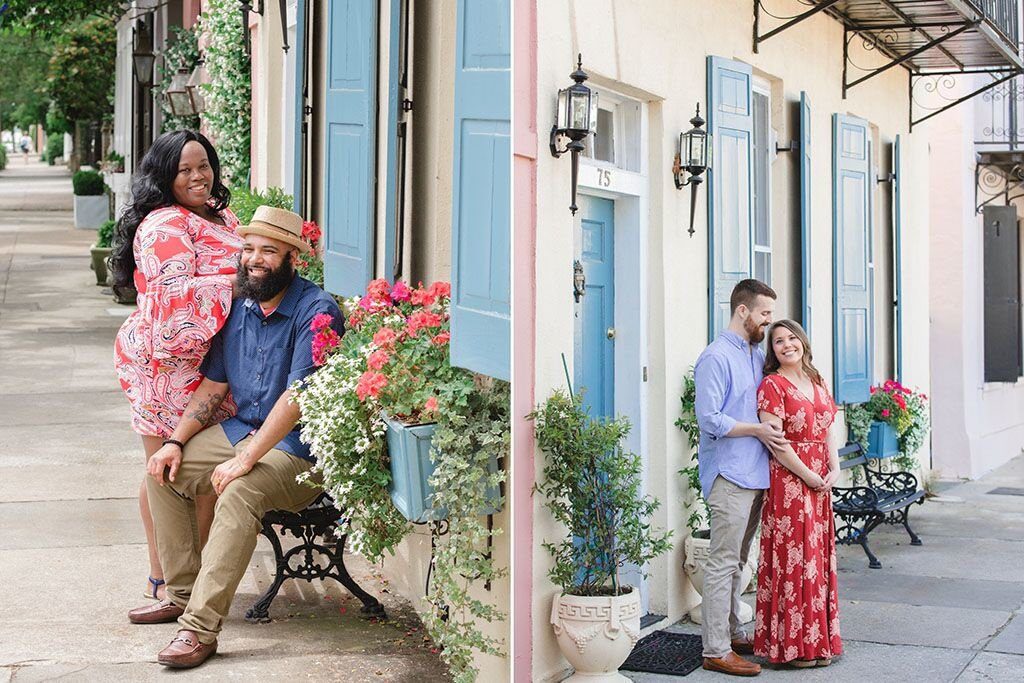 You can see this place as a background on many photos of visitors of Charleston. Rainbow Row is one of the most popular destinations here so it can be very crowdy. However, I can always recommend the time when we can avoid crowd and take some amazing pictures without any problem. Why is it so famous? There are many old houses that are all different from one another. As well, vibrant colors of these beautiful buildings let to do pictures at really incredible backgrounds! If you want to capture true Downtown spirit, it is worth to pay attention to this location.
Elliott Street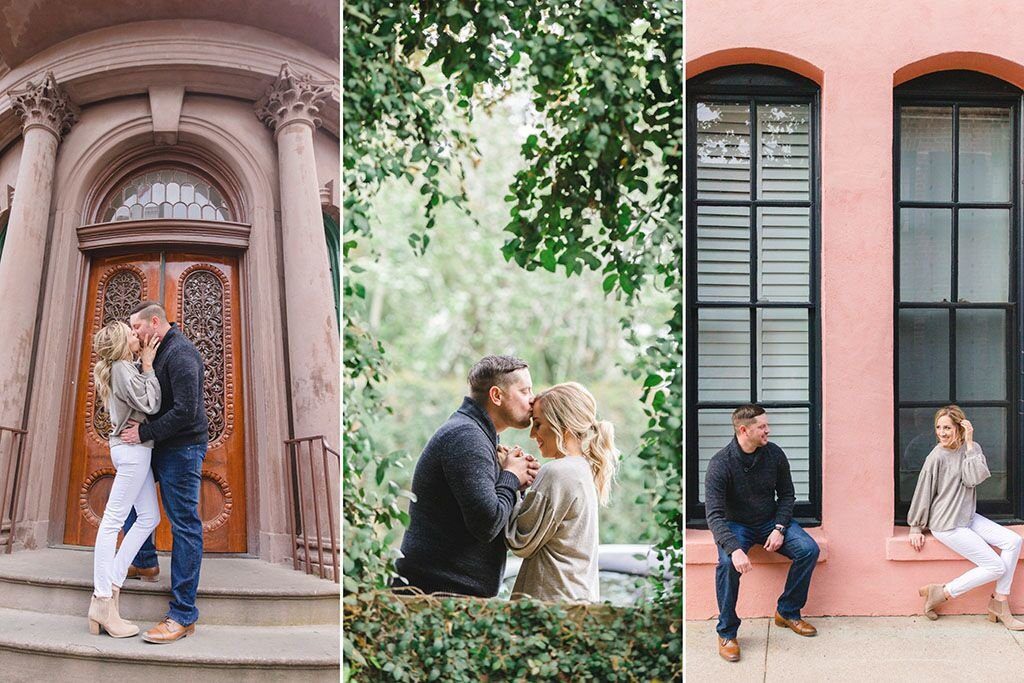 Elliott Street is steps from everything that makes Charleston one of the most beloved cities in America. Beautiful landscapes, buildings with original architecture, a variety of flowers and trees – everything here creates an atmosphere of miracle. You can see in the photos that there are not many people so no matter what kind of a session you are looking for, this location probably will be a very good decision you'd better consider about.
Legare Street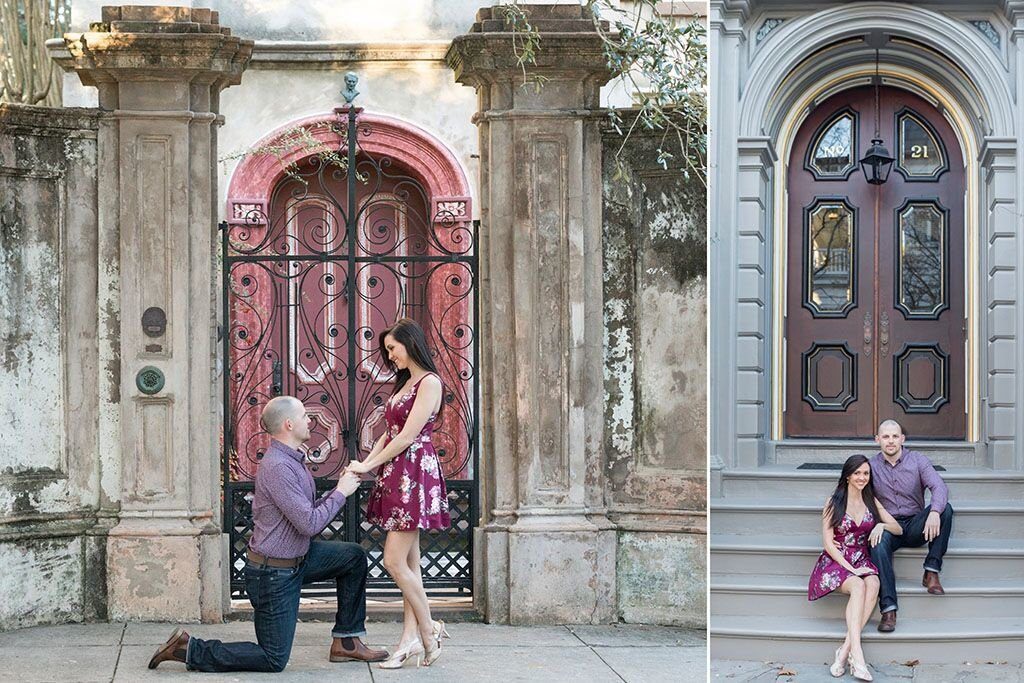 One of the city's grandest streets, Legare Street in Charleston is another great location for taking pictures. If you and your soul mate want to capture one of the most important moments in a secluded corner, it is the right option! This street helps to create an intimate and romantic atmosphere with its old elegant houses and lovely greenery. On the photo you can see a couple at the background of finely wrought front entrance gates that will add some spice to your photography.
Church Street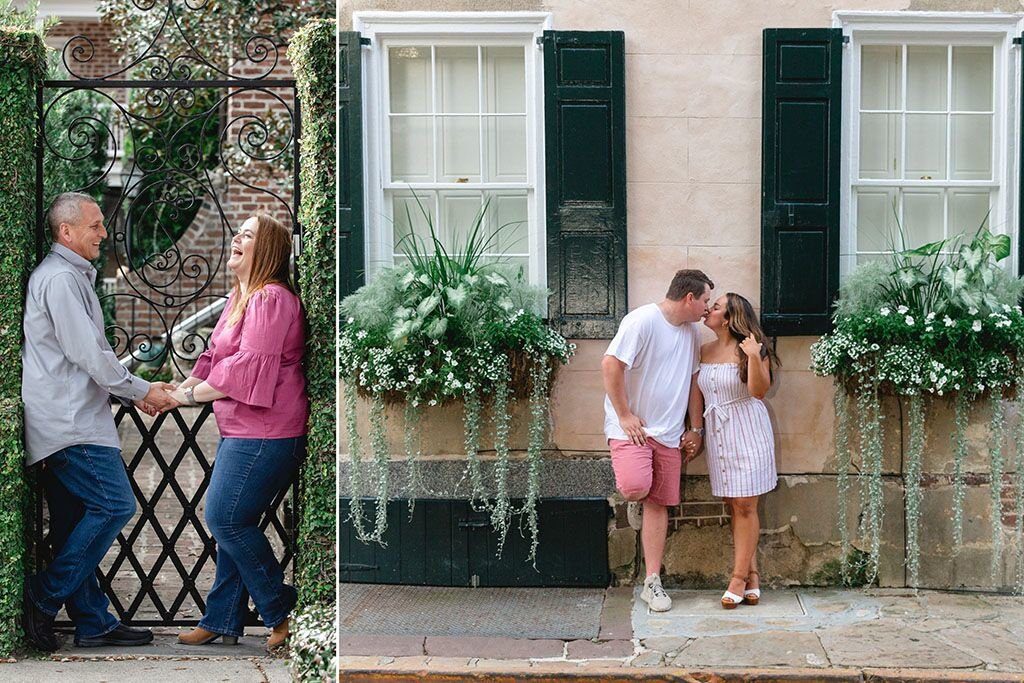 Church Street features simple but graceful style architecture of buildings – simply a photographer's dream come true! You will never forget your photography session, with beautiful views that will make for great wedding photographer. Church Street can be truly considered as one of the best photo session venues in Charleston.
King Street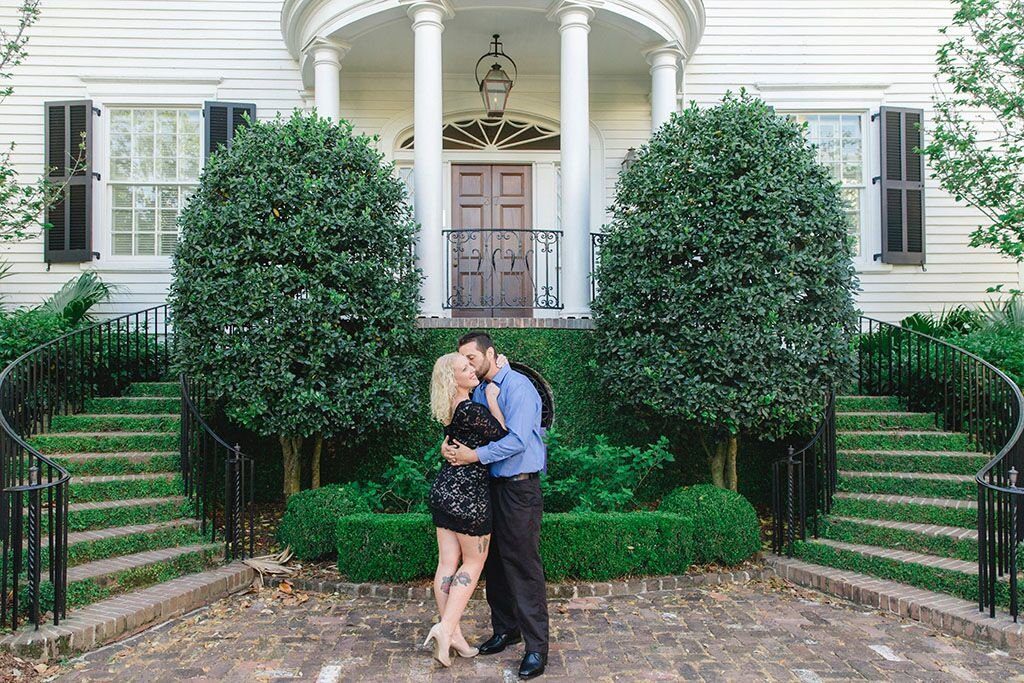 Nothing defines Southern charm quite like King Street! So many kinds of shops and fascinating things to see. You find plenty of shops with colored facade all over this long street which looks beautiful on the pictures. Indeed, King Street is a bustling thoroughfare where Charleston's past and present meet. At more than 300 years old, King Street is one of the most historically and architecturally significant streets in downtown Charleston. It is a perfect option for the couples who are interested in taking some elegant and classic photographs.
Philadelphia Alley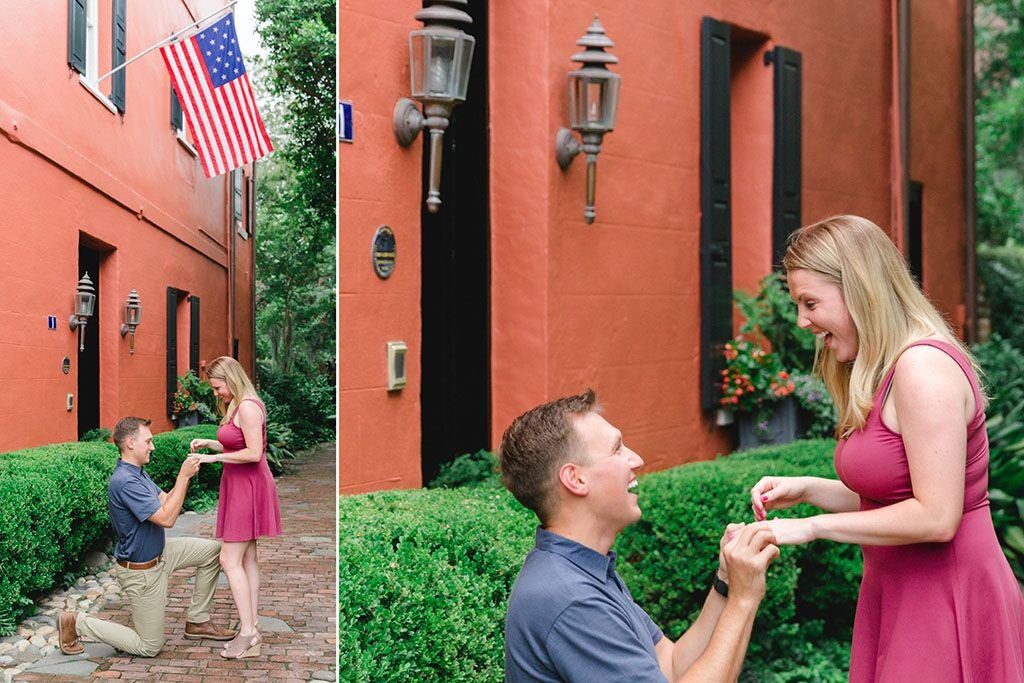 You can find this charming alley between Queen Street and Cumberland Street. Among locals Philadelphia Alley is considered to be one of the many hidden treasures that Charleston offer. As a professional photographer I like the hidden nature of the alley that allows you to discover it when walking. The alley provides plenty of shade on a warm day and seems to be cooler with all of the trees around it. It is easy to take good photos here and that the alley has so many good angles and plenty of stories to tell!
Isle of Palms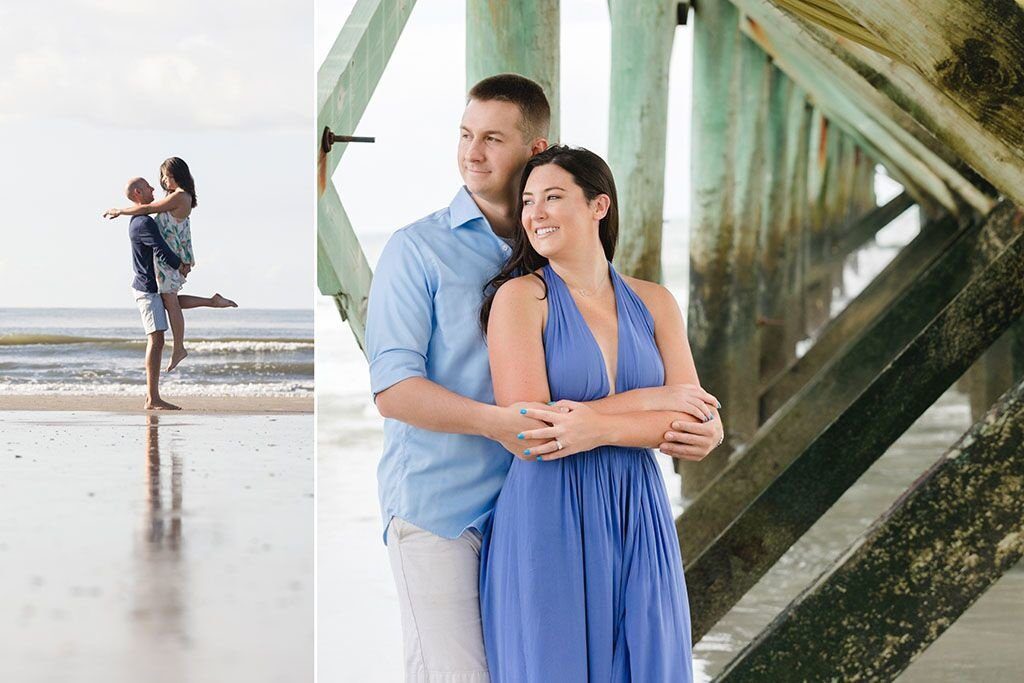 Looking for a place with calm and relaxing atmosphere? Small, soft waves, shallow warm water – all this you will find if you ask me to do pictures on this excellent beach. Another huge benefit of the location – it is not crowded at all if you are going to capture your engagement in the morning. I really like Isle of Palms as it is the best beach option to make beautiful and lovely photos. Moreover, it has convenient parking. I know this location pretty well so we can find the best places for our photo session. Gorgeous views, a beautiful pierce and romantic mood will help us to do the most wonderful pictures!
Shem Creek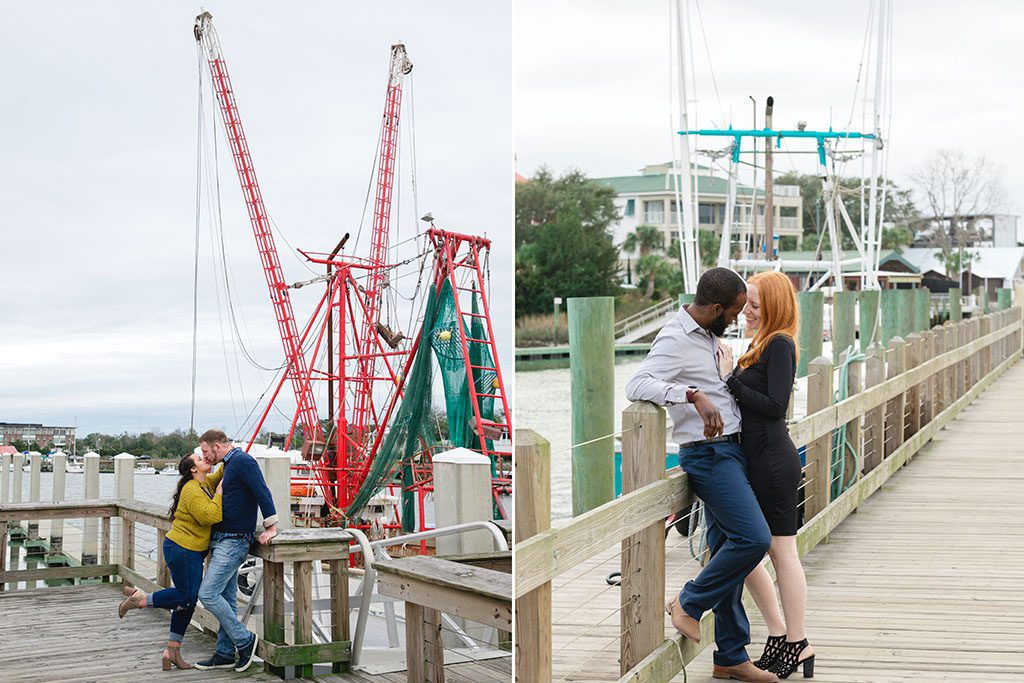 First of all, visiting Shem Creek will let you see Charleston from an absolutely different perspective. This wonderful location has its own unspeakable atmosphere. You can enjoy lots of ambiance due to this wonderful view (especially at sunset or night), great decks and patios. If you would like to take your Charleston elopement photo session at a beautiful location on the water, Shem Creek is definitely worth to pay it into consideration. Photos, taken at this boardwalk out to the seaside, look unbelievable!
Folly Beach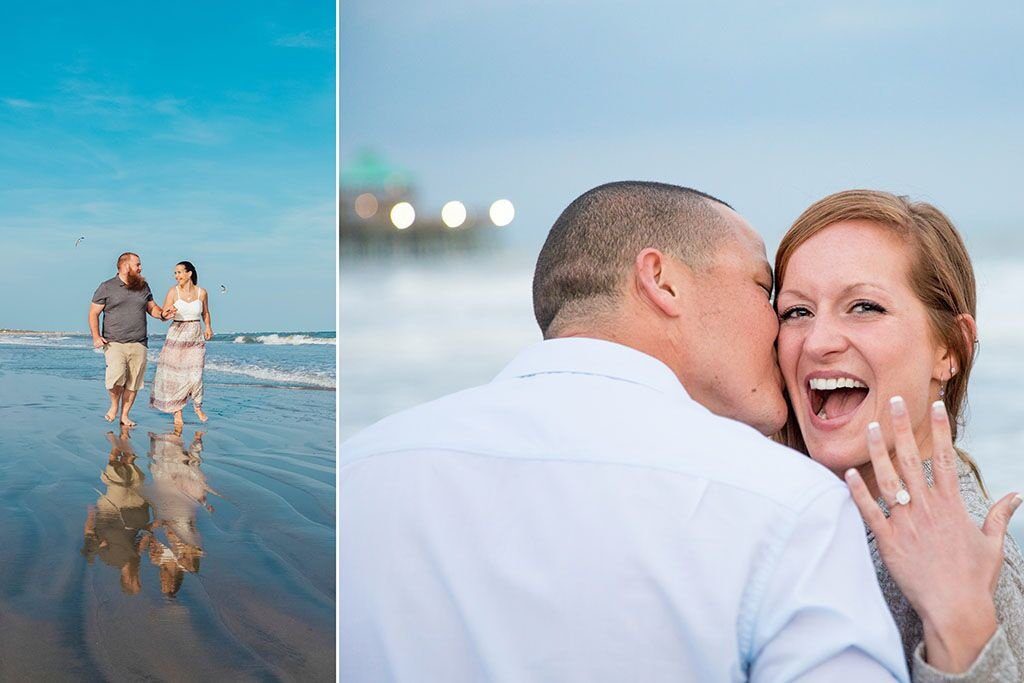 Are you a hopeless romantic? Are you dreaming of reaching the ends of the earth with your soul mate and of seeing painted sunrises and sunsets? Then Folly Beach is your choice for an excellent engagement photo session! Of course, it is not the ends of the earth, but this wonderful beach is called 'the Edge of America'. My big experience will let me show you the most charming and unique spots of the location so that to find the best backgrounds. If you want to get into a real labor of love you should pay attention to Folly Beach.
Kiawah Island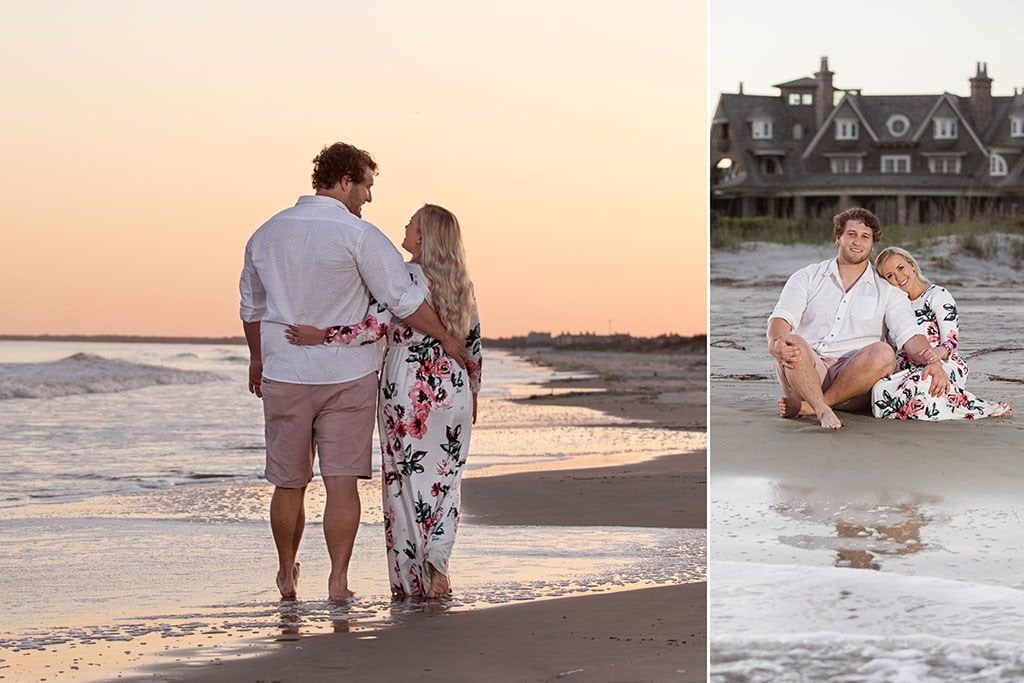 Like other beach options, Kiawah Island is suitable for couples who want to capture their engagement in a calm and peaceful atmosphere. However, this location has its own attraction that other beaches do not possess. I want to recommend the oasis of untouched natural beauty to couples whose desire is to get away from big cities' hustle and bustle and to find their own calm and intimate place. It is the perfect variant for people find it hard to relax as this amazing atmosphere seems to help you demonstrate your sincere feelings and emotions.
Morris Island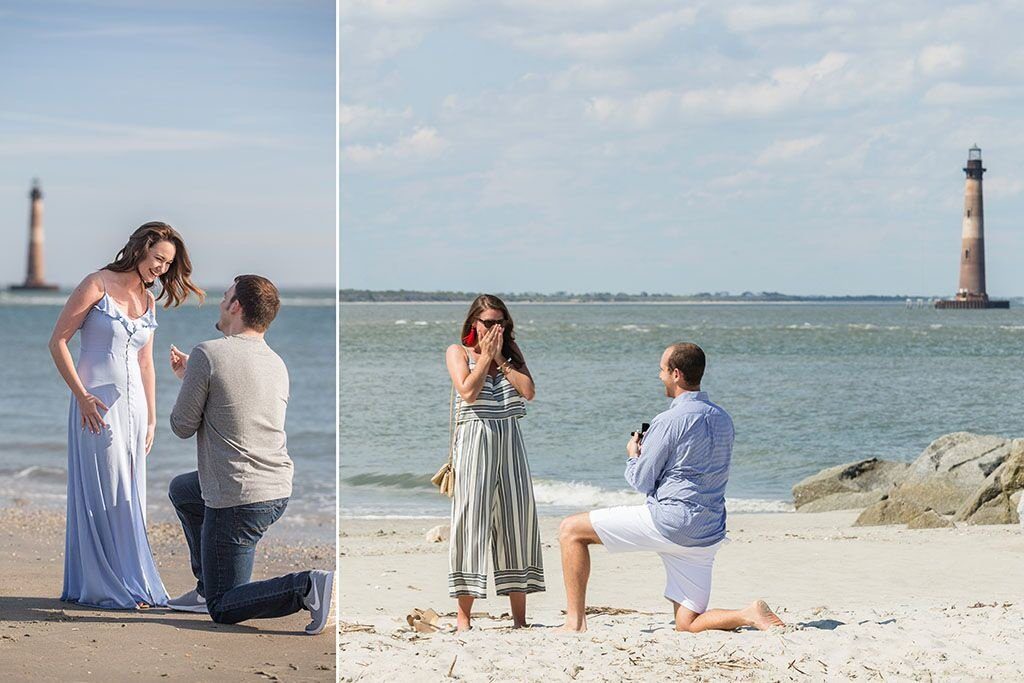 All beach options have a special calm atmosphere but Morris Island stands out among others. The best highlight of the location is the gorgeous candy-cane striped Morris Island Light. The lighthouse was named to the National Register of Historic Places in 1982. It is such a beautiful treasure! If you want to get magical experience you should pay attention to this calm location. As well, it is ideal for shy people who do not like busy and overcrowded cities. Here you can get relaxed and feel absolutely free and happy that is so important for a successful engagement photography.
Mount Pleasant Pier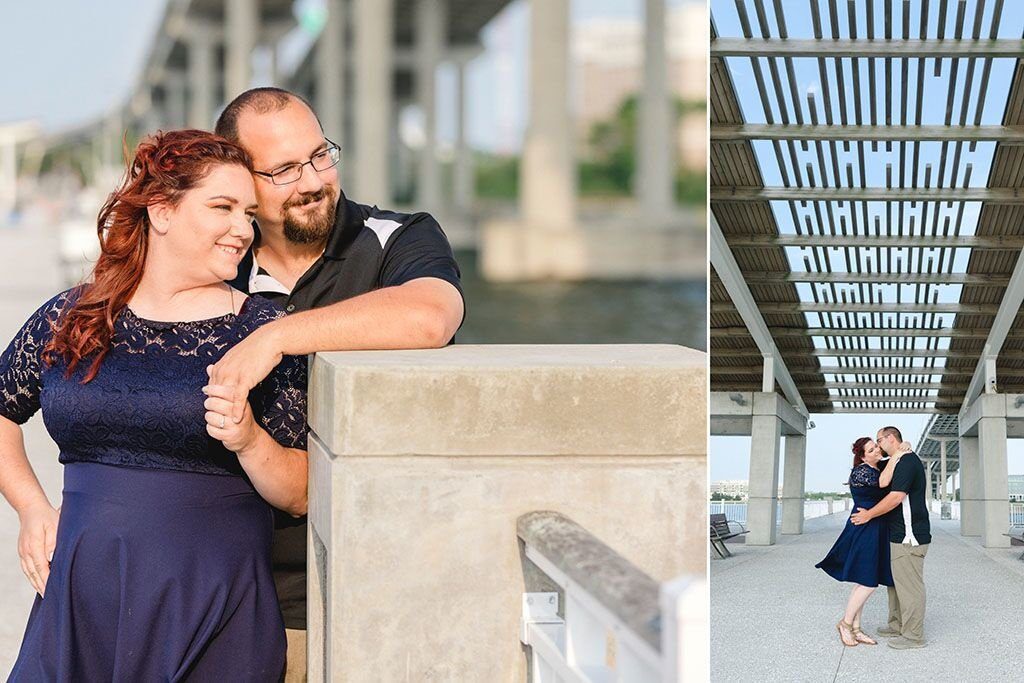 Do you want to visit a relaxing, laid-back place where you can enjoy the harbour? If so, you should choose the Mount Pleasant Pier without any doubts as a location for your engagement photography. The Pier is part of the Memorial Waterfront Park complex. This place provides intimate atmosphere and beautiful views. It is sometimes possible to spot dolphins in the harbour. Just take in the gentle breezes and look at the blue sky and you will understand how amazing the Mount Pleasant Pier is.
Ocean Walk Mount Pleasant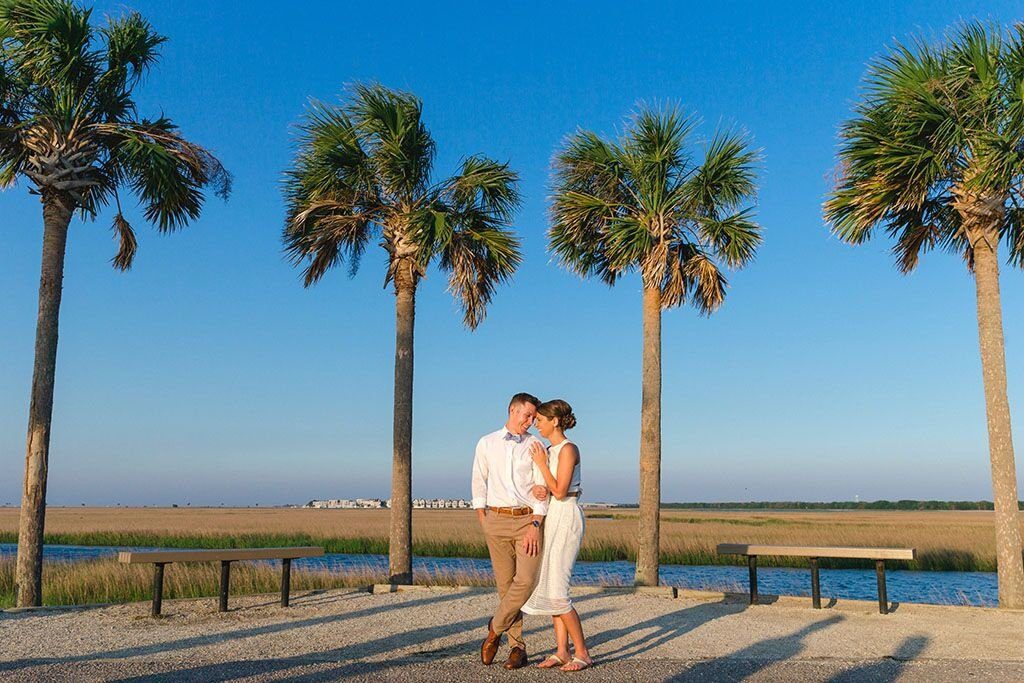 This photo seems to be unreal, doesn't it? However, this is one of my favourite pictures that we have taken with one engaged couple.  Ocean Walk Mount Pleasant is one of the best places to enjoy an amazing view or to walk in the footsteps of history. Here you will find very nice and scenic obscure park with wonderful views of Charleston Harbour the featuring landmarks of which are such incredible spots as Fort Sumter and the Ravenel Bridge.
Public Pier Concord Street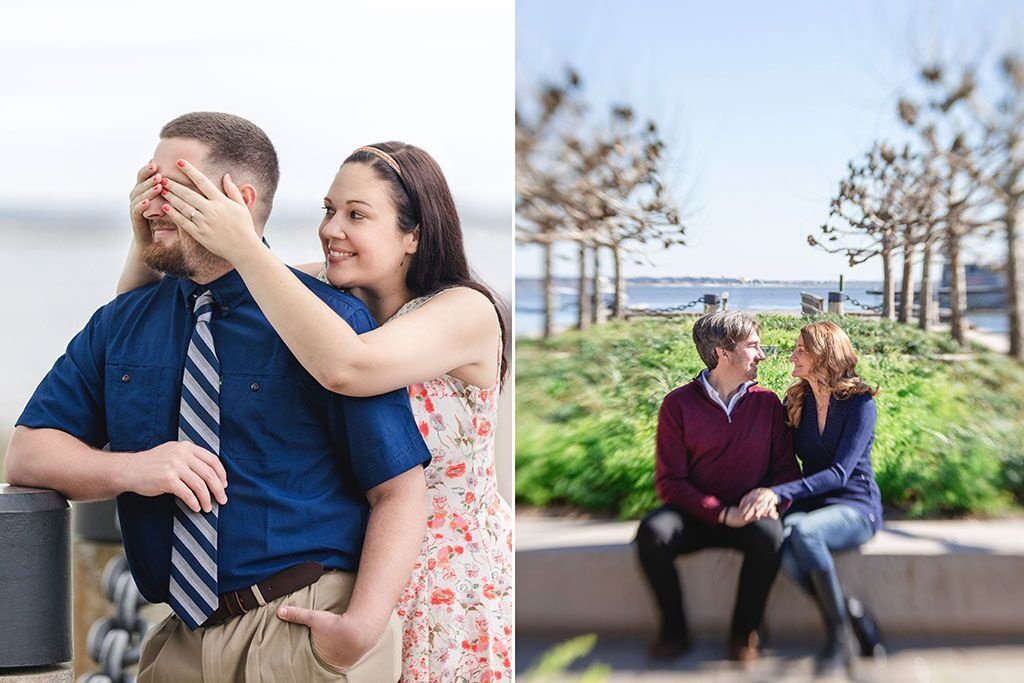 This beautiful street has many great places to take romantic photos and the Public Pier is the one I want to recommend you. No matter you want to propose your partner or you have already engaged – everybody wants to do pictures in the best place. This location will work perfectly for people who love beautiful greenery and wonderful views of water. If you want to walk along quiet waves and enjoy each other in a secluded and romantic place please feel free to call me and I will bring you to such a place!
Mepkin Abbey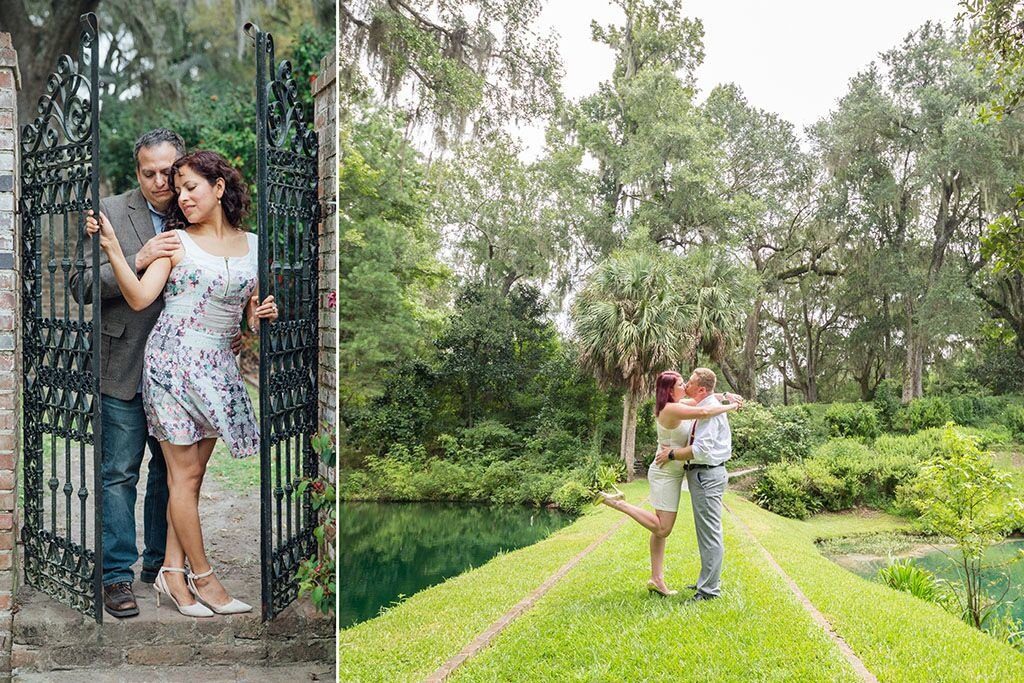 Mepkin Abbey is a Trappist monastery featuring beautiful peaceful gardens set along the Cooper river. Some tourist think that this place is much better than the far more famous, and accessible, gardens at Middleton Place on the neighboring Ashley river. Indeed, Mepkin Abbey is magnificently beautiful and deserves to be captures in photos.
College of Charleston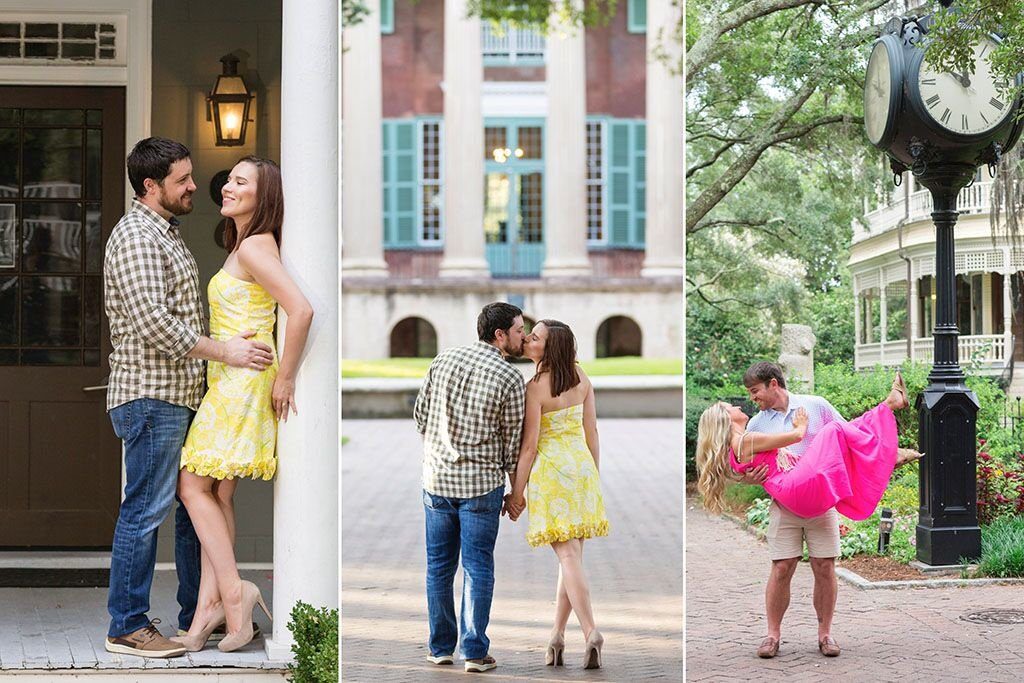 Everybody knows about famous parks and gardens, but beauty of other places is hidden from tourists. As I have been a Charleston engagement photographer for 5 years, I can show some non-obvious locations to do pictures, for example, the area near the College of Charleston. The gorgeous building of the university is situated among beautiful greenery. On the photo you can see an elegant streetlight that makes a usual view more charming and captivating. Don't you want to walk along these lovely trails?
Custom House Charleston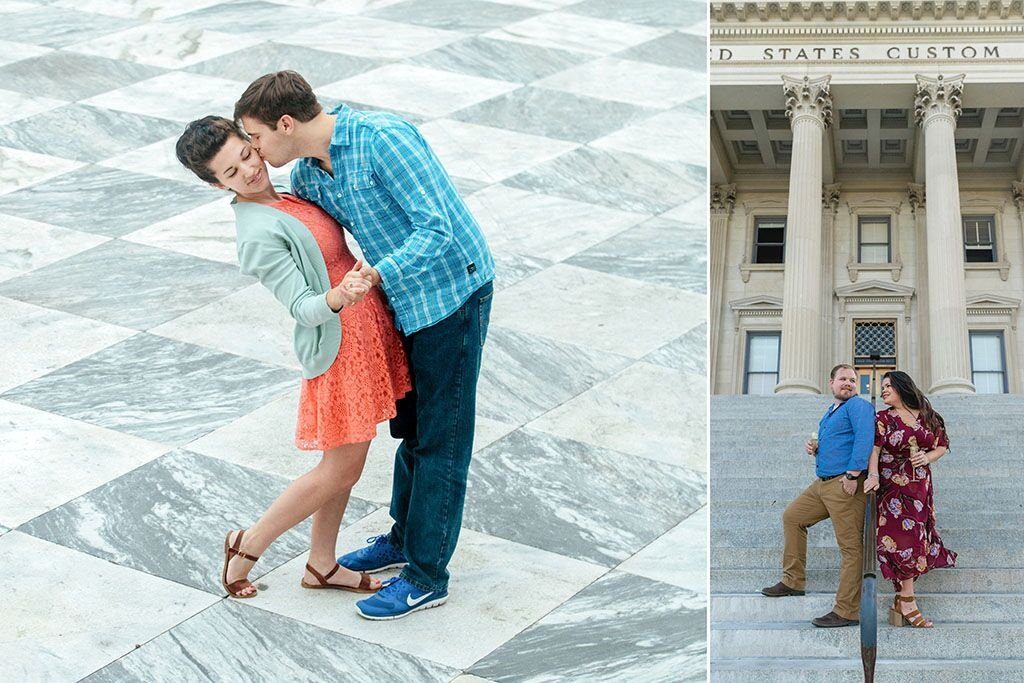 Some people like incredible and picturesque views of nature while others prefer to take pictures near great historical buildings. There you can both enjoy the beauty of marvellous architecture and get the feel of its history. As well, we can take some unusual and romantic photographs at the area of the building as you see on the photo. The United States Custom House was built in 1879 and is one of only several historical custom buildings that continues to serve its original purpose. Isn't it interesting to have an engagement photo session over there?
Here are some unusual places that require special permission to do photography. However, if you risk, your engagement photo session will be unforgettable!
Bar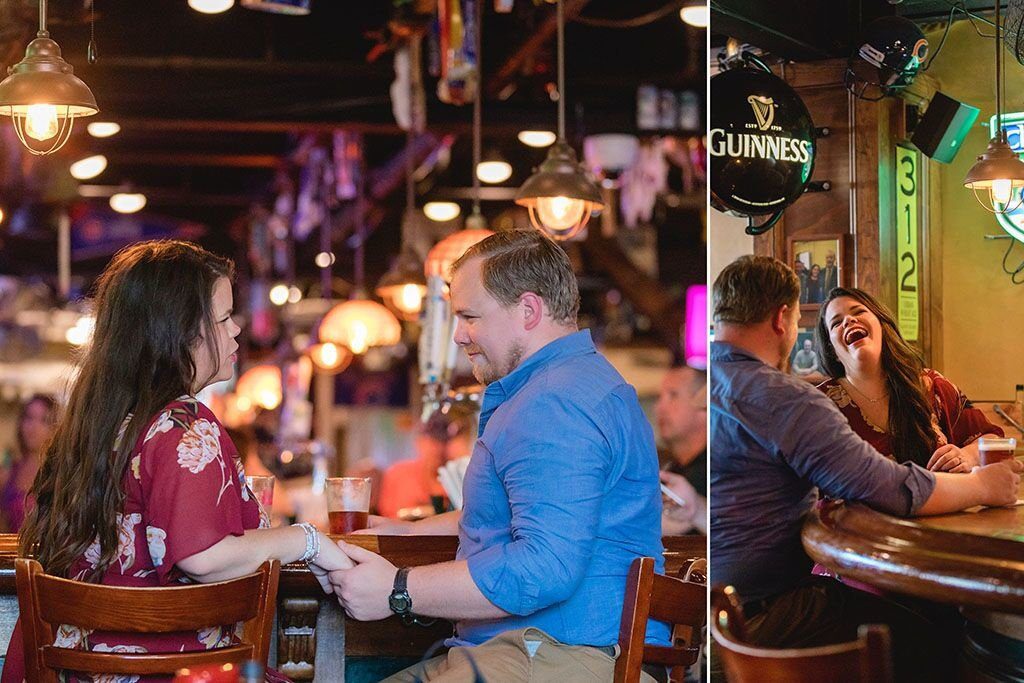 This idea for engagement requires some effort and can be interesting not for all people. Have you met at a bar? Or maybe has your first date taken place there? Therefore, you are the ones who will definitely be interested in the idea. To recollect the awkward but so romantic atmosphere of the first meeting and capture the decision to unite your lives at the same place where you have seen your soul mate – it is possible if you risk and ask permission to hold our engagement photo session at the bar. By the way, you can see such a couple on my photos. They look so happy and beautiful, don't they?
Charleston Fire Station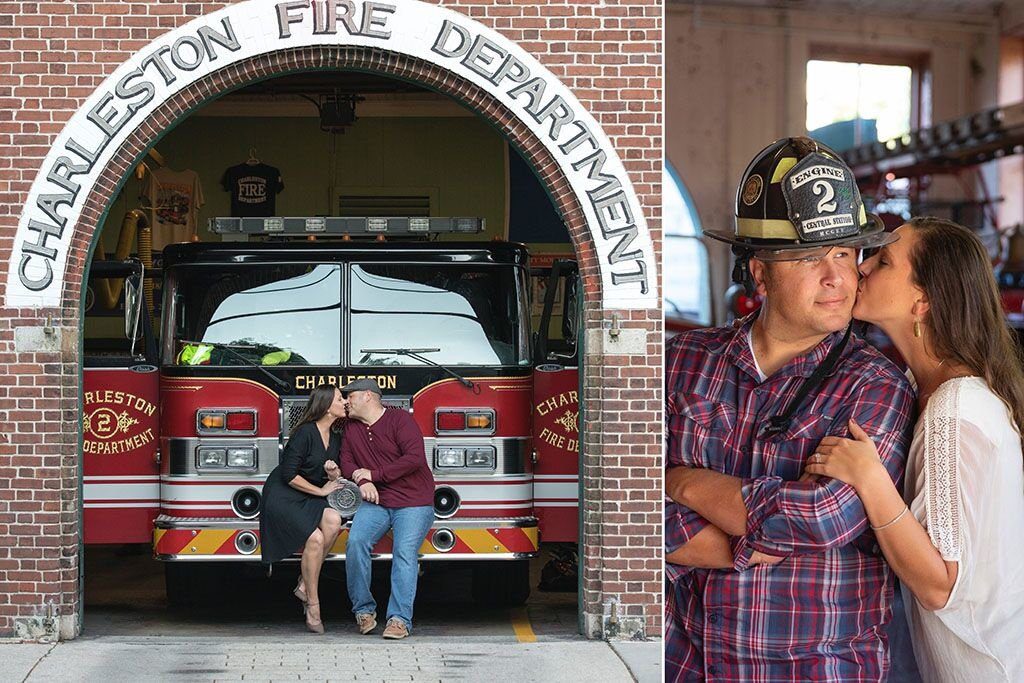 You didn't expect it, did you? However, I am sure that they are some really active and adventurous folks who are willing to create absolutely unique pictures that they will cherish forever. Being honest with you, Fire Station is one of my favorite spots where I had pleasure to take pictures of a wonderful wedding. Be sure, couple's friends were jealous with the pictures. Interested? Let me know!
Old City Jail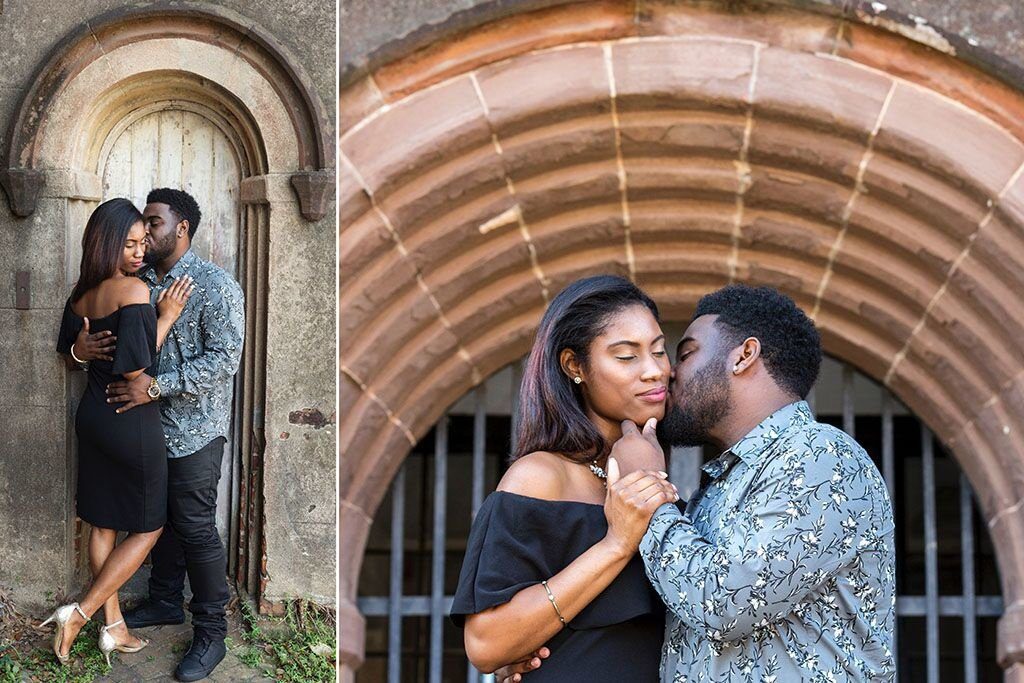 Want to find something special? Willing to create an unforgettable session and surprise all your friends with the pictures? The Old County Jail is located on a four-acre parcel set aside for public use from Charleston's earliest settlement. The jail, which was operational from 1802 until 1939, housed Charleston's most infamous criminals, and, during the Civil War Federal prisoners of war. The property is not very spacious, but big on history and spooks. Beautiful and (surprisingly!) romantic place for all adventurous couples!
The Dewberry Charleston
If you want to make your proposal look like a scene from your favourite romantic movie you should pay attention to this idea. Just have a look at the view from the roof of the Dewberry Charleston at dawn! I think it is one of the best views I have ever seen. Mild lighting, incredible landscape and magical atmosphere will make your partner feel oneself a hero of a beautiful romantic story. And how wonderful photos will look! Of course, not only this hotel provides such great opportunities, you can get in touch with many of them and book the rooftop for your proposal.
I hope this was helpful and you discovered some new spots and locations in Charleston! If you still have any questions, connect us and I will try to answer all of them, or if it is needed send you more pictures of the location you like. Be sure, that my goal is to make your friends jealous with the pictures!